I restored my first plate in 1996. Since then, I've tried a lot of different experiments with tools and techniques.
I've refined my technique substantially, and I continue to make small changes.  I pay attention to fine details, such as covering all the raised edges properly with the same colour and amount of paint that was used originally.
Each pair of plates can take anywhere from two to eight hours of time to restore according to these steps. There is nothing automatic about my process. Each pair of fully restored plates has spent hours physically in my hands, receiving my complete attention as I bring them back to life. It's a little like an art form, where each plate has its own quirks (numbers aside) that makes it unique from all the others that I do.
My work is robust enough for the plates to withstand the elements without concern. No customer of mine has ever received restored plates from me that have failed to withstand typical outdoor conditions. Other restoration services that don't specialize in license plates cannot say the same. I've been selling restored pairs for over ten years. Even my early restorations are still holding their own, so buy with confidence.
It is worth noting that some Ontario plates from 1968-1972 were embossed with very forceful die strikes, and this occasionally causes a slight "cut" in the metal on the edges of some raised characters. These cuts are a regular artifact of manufacture, and are generally not visible from the front side of the plates. The cuts are not considered to be flaws, nor are they repaired in the restoration process. It is uncommon, but possible, to have Ontario plates dating between 1941 and 1967 that also feature slight cuts from hard die strikes.
I am sometimes asked by people if I can restore their plates, and my answer is no. That's because each pair takes a long time. Occasionally, I make a mistake and start over, and I may leave a pair for months at a time until I accumulate enough plates at the same "stage" of the process where I can take them through the next step. In keeping my business running, I have a lot of painting to do, but as a family man, sometimes the paint brush sits idle for days at a time. But that's OK by me, because I run a small-volume niche business that's a labour of love, more than anything else. I need to be able to work at my slow, meticulous pace, while making time for my family, and working my day job. So that's why I restore only my own stock. If you'll pardon the expression– my plate would be too full otherwise.
Mobile / touch screen users: Swipe left to advance slide show
BEFORE & AFTER SAMPLE GALLERY
No blue colour left on these old 1938 plates, with plenty of crusty surface rust. The underlying metal was strong, and they restored very well. Yes, that's the correct colour, as compared to excellent original examples.
Many pairs can be so-so… it's a toss up whether to display them. This set was good enough to be YOMmed on a rat rod, but I ultimately chose to strip them down and restore from scratch.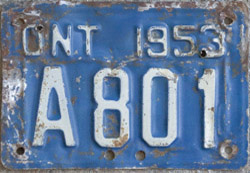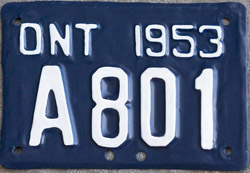 Extra holes, flaking paint and many dents kept this 1953 motorcycle plate from being eligible for YOM. This was a difficult restoration, but it worked. This plate can be seen mounted on its new ride in the Testimonials section of the site.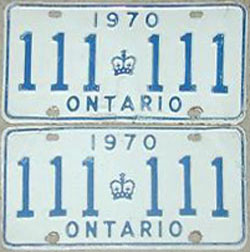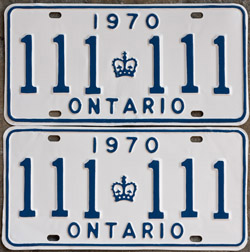 A bang-on number, but a banged-up set of plates. Creases and dents were flattened, and some fresh paint gave these plates a new lease on life!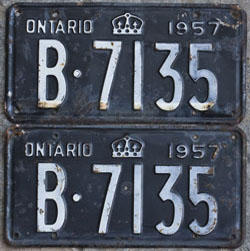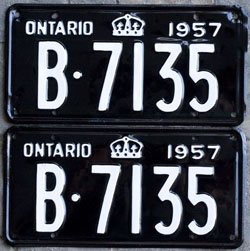 <
Rust and extra holes are eliminated in this smooth 1957 restoration.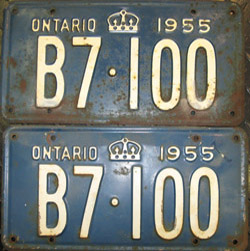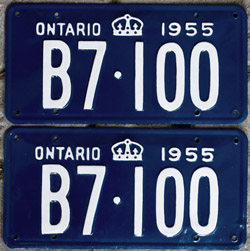 A solid but rusty set of plates, stripped down to the metal and brought back to life!