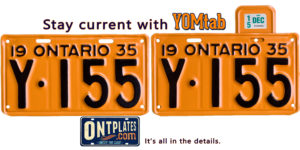 YOM license plates make a great Christmas gift—as long as the recipient knows the tasks and costs involved to have them registered to be street-legal in Ontario. We recommend discussing the idea with your loved one first.
We will never sell plates to a client without first clearly stating those costs. We don't want our customers to be blindsided, so we will always take the time to inform first, and make a sale second. Above all else, we want you to be glad that you chose Ontplates.com, even if you decide that YOM license plates maybe aren't what you're looking for. If you would like to know more about any aspect of the YOM program, please contact us!
We ship via Expresspost, which will get your plates to you, tracked, in two business days. Plenty of time to wrap them and put them under the tree! And if you're looking for a unique gift idea– Our YOMtabs make a great stocking stuffer!
So, what will it cost to register YOM licence plates in Ontario? You can find pretty much any answer in our comprehensive FAQ section. Here are a couple of common ones that we hear during the lead-up to Christmas:
Once I buy plates from you, what comes next?
Ontplates.com sends this info to you in writing with each pair of plates you buy, so you're not left scratching your head. The MTO describes the procedure at this link in full on their site. Succinctly: You send the plates and original vehicle ownership to the MTO Head Office in Kingston, plus a cheque to cover the $251.65 fee for registration– which presently costs less than to order personalized plates. You can also read about my own experience in plating my car with YOMs, including all the purchase and safety steps taken.
Can I buy YOM plates for someone as a gift?
Sure can! But there are some tasks to do and costs involved for the recipient of your gift. In a nutshell, the following must be done by the person who receives your gift of plates:
Send the plates + ownership to an office tower in Kingston for approval
Pay $251.65 for registration of the plate number to the recipient's name
Go to your local ServiceOntario outlet to have the plates stickered (full annual sticker price)
Discuss it with your loved one first. It breaks the surprise, but if they're not keen on the steps above, perhaps YOM isn't your best choice for now.
I'm just looking for a license plate as a collectible only. Can you help?
The stock posted on Ontplates.com is intended for street-legal registration to classic car owners. We go to a lot of trouble and cost to ensure that we only offer plates with numbers that will be allowable to the MTO (most plates have numbers that are "taken" in the system). Thus, we can't come down on our prices just because a person wants a collectible. If you want a collectible plate, they can be often be found quite cheaply on eBay, and we generally send people there when they ask. If you have your heart set on an item from our stock, we will sell to you after we have informed you that there are cheaper options.